Support Team Lead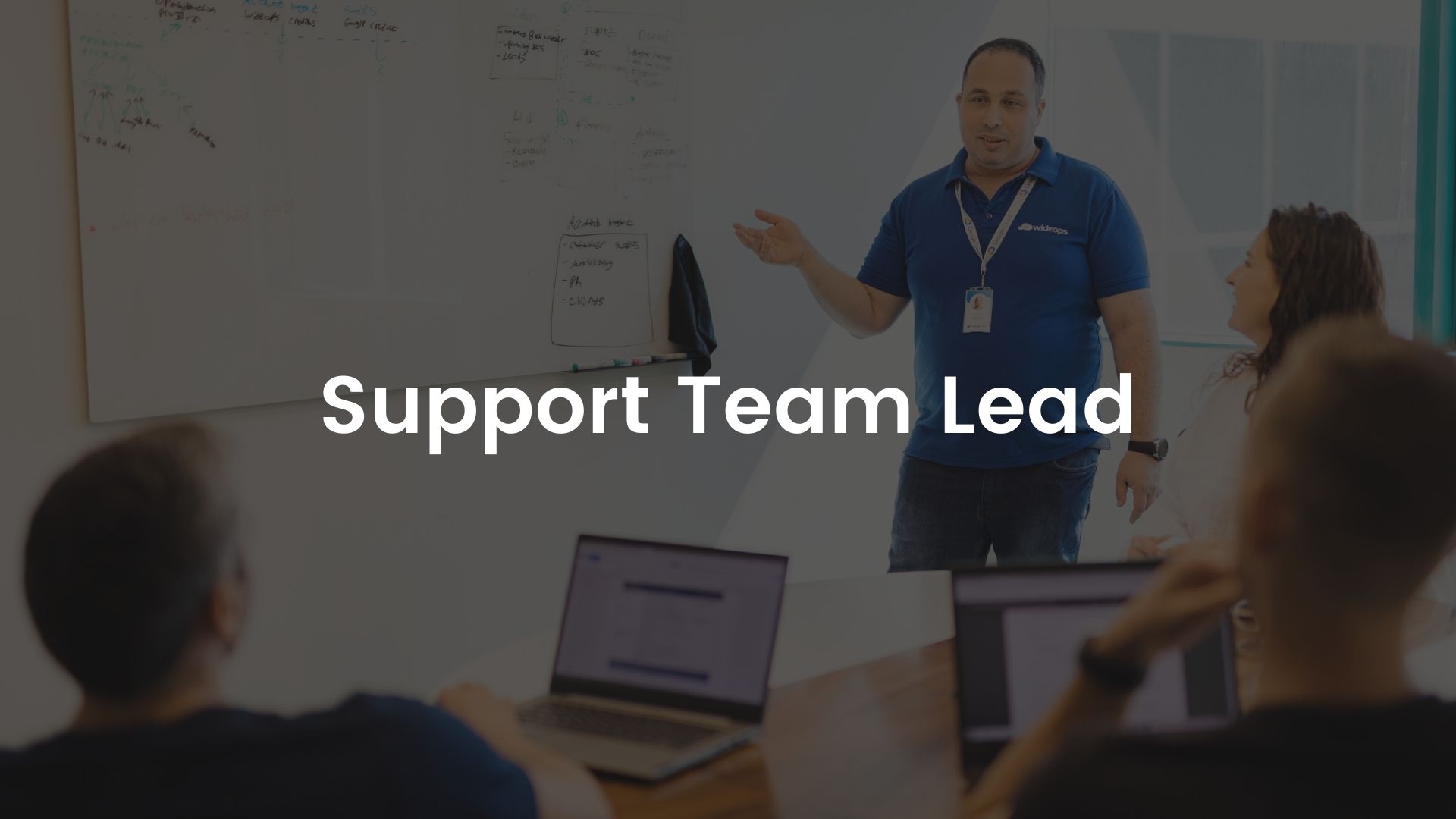 Job Details
At WideOps, our dedicated team of cloud experts is committed to providing solution-driven technology to streamline business efficiency.
We leverage our experience as a Google Cloud Premier Partner to offer 360° support for businesses of any scale.
By providing clients with top-tier resources, architecture, and expertise, our team strives to build meaningful partnerships that ensure client success and growth.
We're looking for a talented technical support lead to join our team.
Help us continue our rapid growth, and maintain streamlined Cloud-Based Solutions for our customers.
As a part of our team, you'll work closely with DevOps and R&D team leaders.
You'll lead the management of all customer-related technical support matters and consulting, including managing tickets.
Responsibilities:
Managing the division's support team, building and mentoring the team members while driving their professional development.

Lead members of the Technical Support team, including day-to-day management and professional development. 

Be the main expert and focal point of our cloud technologies and platforms

Researching issues and identifying potential solutions while providing prompt and accurate feedback to customers and internal stakeholders

Prioritize and manage multiple issues from customers on our products and platform, simultaneously

Communicate with customers and internal stakeholders and ensure that they are well informed of the progress and plan
Requirements:
2+  years of experience in Technical Support or similar function

Being a committed team player that can help lead others through challenging customer issues

3 years of hands-on Linux administration experience.

3 years of hands-on Windows administration experience.

Strong understanding of networking concepts.

Strong Knowledge of Bash scripting or Python.

An extensive experience with B2B support.

Excellent English writing and communication skills with attention to detail
Experience with the following:
Apache\Nginx\IIS configuration

Strong understanding of SQL concepts.

Jenkins\Chef configuration.
Nice to have:
MySQL\Postgres deployment and advanced configuration. 

MSSQL deployment and management.

Public Cloud: AWS\GCP\Azure –  is a big pro.
Additional Info:
Only short-listed candidates will be contacted. Confidentiality of all applications is assured!
Job Status: Open
Job Sectors: Development
Job Type: Full Time
Regions: Haifa | Israel
Location: MATAM, Advance Technology Center Building 30 Haifa, Israel